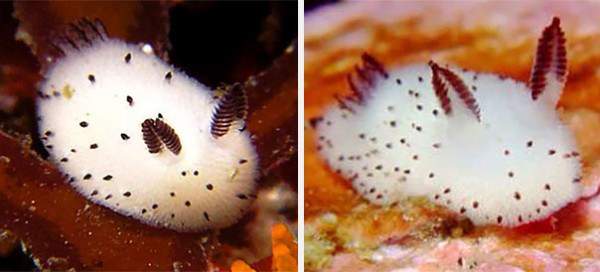 The Japanese are going crazy about a sea slug and there is a reason for that. The name of the animal is Jorunna parva, however it is also known as the 'fluffy bunny of the sea' and is adorable.
The Animal Is A Member Of The Nudibranch Group And Can Be Found In The Area Covered From The Indian Ocean To The Pacific. The Japanese Name Of These Animals Is Gomafu Biroodo Umiushi, Which When Translated Means 'black Speckled Velvet Sea Slug'.
They Are Also Attached To The Animal Like Goma-chan Or 'Little Miss Sesame'.
The Sea Slug Has Distinctive 'bunny' Ears, Which Are Scent And Taste Organs Named Rhinophores. The Organs Help The Sea Animas Detect Chemicals In The Water, Which Make Them Very Handy As The Slugs Are Moving Across The Ocean Floor.
These Sea Animals Are Even More Adorable In Action.
See This Video To But Marvel At This Wonderful Creature: